What is the future of network security? Zero Trust, SASE and Automation – Virtualization Review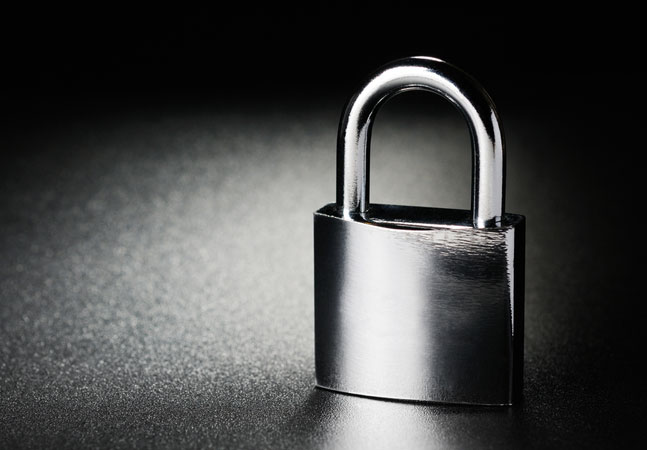 News
What is the future of network security? Zero Trust, SASE and Automation
Leaders of large enterprises were asked about their thoughts on what's next for network security, revealing that top concerns include Zero Trust, Secure Access Service Edge (SASE), automation and more.
The survey, "The Future of Network Security", was conducted by FireMon, which offers a security policy platform for firewalls and cloud security groups, and Pulse Media, a research platform social/knowledge community with over 27,000 members. They surveyed 500 directors, vice presidents and senior managers involved in IT security for organizations with between 1,001 and more than 10,000 employees.
Completed in January, the survey was conducted to find out:
How Respondents' Network Security Operations Changed Due to Megatrends
The solutions they plan to implement in the next 12 months
The most critical initiatives they launch to optimize their network security posture
These "major trends" mentioned in point #1 above include:
Threats still active and multiplying
Skyrocketing complexity caused by accelerated adoption of cloud/hybrid networks
A pandemic-fueled explosion in the permanently distributed and remote workforce
Businesses demand ever-increasing agility, speed of innovation, and flawless user experiences
Here is an overview of the results for Zero Trust, SASE and automation:
Zero Trust
The need for this trust model, as well as SASE, was prompted by the Solarwinds attack, the investigation indicates.
It was also driven by the trend towards a more distributed workforce, many of which have become mobile, and the increased role of cloud-based applications. Some 86% of respondents say they have already implemented a Zero Trust Architecture (ZTA) or plan to do so within the next two years.
SASE
This rising security star was invented by research firm Gartner, describing a way to simplify extensive networking and security by delivering both as a cloud service directly to the connection source instead of the company data center, according to Wikipedia.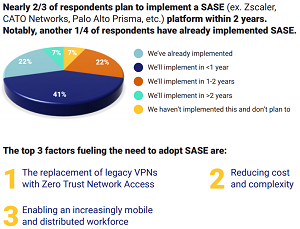 The survey indicates this and Zero Trust, among other things, mitigates the ability of malware to spread through networks. Examples of SASE implementation vendors include Zscalar, CATO Networks, and Palo Alto Prisma. Nearly two-thirds of respondents say they will implement such offerings within two years, and about 25% of organizations are already doing so.
Automating
Nearly 80% of respondents say their organizations will implement security orchestration and automation within the next two years. Additionally, almost all (98%) have automated security policies in place in some way.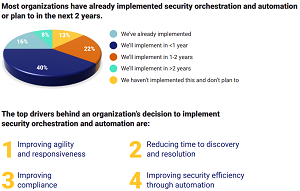 The survey delved into security policies (a specialty of FireMon) in more detail, finding that more than 9 in 10 organizations agree that Network Security Policy Management (NSPM) is a strategic investment to help them improve speed and responsiveness, although only 9% have fully automated their security policies.
Other major themes of the report include addressing issues of alignment between security and development and managing the acceleration of heterogeneity.
"Zero Trust architecture, edge-based protection, security automation, especially for more efficient management of network security policies, as well as a preference for the best security technology with capabilities based on the API are the main areas where the priorities of network security managers are converging," the survey concludes.
"These priorities underscore the importance of managing the growing heterogeneity of network security environments. COVID-19 has been a catalyst, however, the change we are seeing in network security has been a long time coming. This study illustrates the importance of each of these components plays while integrating them into a coherent security strategy for today and for the future."
More survey results, commentary and methodology can be found in the report, which can be viewed here after providing registration information.

David Ramel is an editor and writer for Converge360.